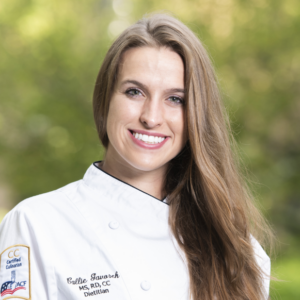 Meet Callie Gavorek MS, RD, CC, FMP, SNS
It looks like you've been a champion of healthy eating for about a decade.
What are some of the healthy eating strategies that you've worked on
for K-12 menus?
One of the most common nutritional requests for K-12 menus is lower sugar breakfast menus. The United States Department of Agriculture School Breakfast Program Meal Pattern currently does not have nutrient specifications for sugar; therefore many school nutrition professionals take it upon themselves to voluntarily implement a higher standard when it comes to sugar. With this, I've worked with schools to focus on incorporating foods on their menus with less added sugars and more natural sugar sources, such as fruit and dairy. These paired with low-sugar breakfast grains and protein-rich foods create an energizing start to the school day.
How and why did you choose health and nutrition as your career path?
Ever since my own K-12 school days, I have loved math and science. I originally pursued a higher education in nursing, but after I took a Nutrition 101 prerequisite course, I fell in love with all things food. During this time, I found myself often pushing my studies to the side to read unassigned nutrition textbooks and cookbooks. I soon realized that my career path had to include food. Shortly after, I switched my major to nutrition and dietetics and later obtained my Bachelor's Degree in Science and became a Registered Dietitian. My love for food only continued to grow over the years through my work and personal endeavors. Eventually, I pursued a Master of Science in Human Nutrition and attended culinary school. Later I went on to obtain certifications related to my work and became a Certified Culinarian (CC) with the American Culinary Federation, Foodservice Management Professional (FMP) with the National Restaurant Association, and School Nutrition Specialist (SNS) with the School Nutrition Association.
What are the most common questions you've heard about canned fruit?
A big misconception in the popular media and diet culture is that fruit is "bad" because of its sugar content. According to  the U.S. Dietary Guidelines, Americans 2 years and older should keep their intake of added sugars to less than 10% of their total daily calories. Fruit provides a variety of nutrients including vitamins, minerals, and fiber. It plays an important part in our diet and should be enjoyed as nature's dessert due to its natural sugar content. When it comes to canned fruit, selecting canned fruit with 100% juices or light syrup can help reduce added sugar intake. When using canned fruit with heavy syrup you can drain and lightly rinse the fruit to remove excess added sugar.
Have you used canned pears or the juice to replace sugar in recipes? Or used the fruit in baking to replace fats or oils, as some recipes do with applesauce?
Yes, a great way to reduce added sugar in breakfast grains is by using fruit in place of sugar. Canned fruit is great for this as the fruit is processed at peak ripeness. This can be done by draining canned pears and pureeing them in a food processor or blender. The pureed fruit can then be used in a one-to-one ratio when replacing sweeteners in most baked goods. Depending on the type of baked good, you may want to only do a partial replacement of the sweetener to maintain specific characteristics of the breakfast grain.
In some grain-based desserts, fats such as oil can be replaced with pureed canned pears too. For example, a whole grain zucchini bread pairs well with pureed pear as an oil replacement. The canned pear does an excellent job producing a moist product and the pear's light, subtle flavor does not overpower the dish. Much like the use of pureed fruit as a sugar replacement, partial replacement may be best to maintain specific characteristics of some dishes.
What are some of the most creative ways you've seen canned pears used on menus? Did any of those
also use the juice?
I've seen canned pears used in many applications. Some menus exclusively use the fruit for parfaits and fruit toppings with breakfast grains like waffles, pancakes, and crepes, while other applications use a combination of the fruit and juice for salad dressings, smoothies, and yogurt cooler drinks. A classic I love seeing in schools is the use of canned fruit to make Jell-O by simply using canned pear juice in place of water and adding unflavored gelatin and a variety of cut fruit, including canned pears.
What's your favorite way to eat canned pears?
I'm an avid camper and enjoy canned fruit when I am away from home. My favorite way to eat canned pears is sweet and simple. I take canned pear halves, thinly slice them, and sprinkle cinnamon on top for a perfect snack.