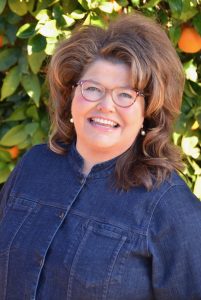 Meet Amy Myrdal Miller, MS, RDN, FAND
President of Farmer's Daughter Consulting and co-author of Cooking a la Heart, Fourth Edition

When did your interest in food, from farm to table, start, and how has that influenced your career?
I grew up on a farm in northeast North Dakota. As the youngest of five kids—including three brothers who are farmers—I spent a lot of time listening to my family talk about the weather and the business of farming. When I was living on the farm, my dad had a big cow-calf operation. He also grew wheat, barley, and corn for silage for the cattle. Today, with my brothers running the farm, wheat is still the largest crop, but they also grow soybeans, canola, dry beans (pintos and black beans), and sunflowers.
My interest in cooking came from my mom who got me working in the kitchen at an early age. By the time I was 10 years old, I was often in charge of making dinner and supper for the family. I love to cook and bake, and I do a lot of recipe development for clients.
My business, Farmer's Daughter Consulting, offers clients a wide range of marketing and communication services. We specialize in nutrition marketing, agriculture communication, influencer engagement, and recipe development. We are inspired by farmers, flavor, and fun!
Tell us about your cookbook that was recently released, Cooking à la Heart.
Cooking à la Heart is a cookbook that got its start in the mid-1980s as part of a National Institute of Health-funded study on community health in Mankato, Minnesota. My co-author on the fourth edition, Linda Hachfeld has been a co-author of the book since the first version. Linda invited me to work with her to totally update this version to fit the needs of today's home cooks. There are 20 chapters in the book, including the first chapter which focuses on the research showing the types of eating patterns that promote cardiovascular wellness, and the second chapter focuses on the principles and practices that bring the science to life. The remaining 18 chapters feature recipes, including some that use canned pears.
Today's foodservice operators are interested in serving delicious food that's sustainable. What's the fit for canned pears?
Sustainability is such a complex issue, but one way to simplify the complexity is to think about the hard work and resources that go into growing food on farms across this country and around the world. In the case of pears from the Pacific Northwest, the larger Bartlett pears are often sold as fresh pears, while the smaller Bartlett pears become perfectly poached canned pears. This allows the pear growers to utilize their entire crop versus wasting pears that aren't perfect for fresh market specifications or discerning shoppers. When a foodservice operator uses canned pears, he or she is honoring the pear harvest and showing respect for the hard work and natural resources that went into producing those pears and allowing the farmers to be financially sustainable, as well as environmentally sustainable.
What are some tips for incorporating canned pears into recipes that reveal the fruit's culinary potential?
Canned pears add sweetness, texture, and amazing flavor to so many types of dishes. I developed two recipes using canned pears for Cooking à la Heart cookbook that would also be great ideas for foodservice menus. One is a Ginger Pear Compote that can be used as a topping for items like waffles or pancakes, but my favorite way to use it is as an appetizer. I top baked brie with it and serve it with whole grain crostini. The other recipe is Prosciutto & Pear Piadine with Balsamic Drizzle, which combines the canned pear juice/liquid with Gorgonzola cheese to create a creamy sauce for the piadine. The pear slices add a contrasting sweet flavor note to the salty prosciutto.
What's your favorite recipe or way to eat canned pears?
I love canned pears! I'll eat them straight out of the can, as a topping for Greek yogurt, in smoothies with frozen raspberries, or in baked goods like a quick and easy pear crisp. But by far my favorite new way to eat them is in my Ginger Pear Compote recipe. I tend to make it at least once a month because it's so versatile and flavorful! It's just canned pears cooked with honey, lemon zest, candied ginger, ginger root, and dry ginger powder – cooked down until it gets a little syrupy.