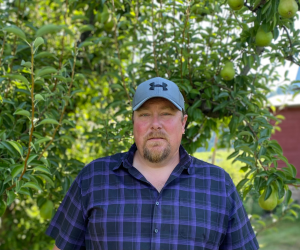 Hood River, OR
Pacific Northwest Pear Grower
How did your family get started in the pear business?
In the 1920s my great-grandpa and his brother moved from the Midwest to Oregon to work on a 40-acre ranch in the Hood River Valley, located on the eastern side of the Hood River Valley, with the Columbia River to the north, the foothills of Mt. Hood to the south, and the crest of the Cascades to the west. The valley is best known for its volcanic soils, mild climate, and growing conditions that are perfectly suited for apples, pears, berries, and other crops.
My family purchased the home ranch they worked on, and Moore Orchards was founded in 1939. Today, our family's fourth generation—me, my two brothers, and our cousin—own and operate the ranch. And our fifth generation is getting started!
What does your family grow today?
Over time our family purchased more land in the Hood River Valley. Now we grow 280 acres of pears, 10 acres of apples, and 18 acres of blueberries. Our pear acreage includes 20% Bartlett pears for canning. For the fresh market, we grow 60% Anjou pears, and the remaining 20% of our pear trees are specialty varieties like Red Anjou and Starkrimson. We sell our fresh fruit under our brand, Hood River Hills, across the U.S.
How do you, your brothers, and cousin manage the business today?
I manage the orchards, and everyone else has a role in running our packing plant. We packed fruit in a barn until the early 1970's when my great-grandpa built a packing and storage company, and it took some convincing to get the bank to understand the value it would add before they agreed to loan him the money. Another advantage of having our own facility is being able to store our Bartlett pears after harvest until the cannery is ready to process them vs paying the cannery to hold them. In addition to our own fruit, we handle fruit from five other area growers, and that helps us keep a year-round workforce of about 50 employees.
What are some of the challenges and opportunities that come with growing pears today?
Labor is tight, and new employment regulations can make it challenging to run our business, so we are looking at new developments in both growing and harvesting, such as a robotic harvester that has arms designed to reach out, pick the fruit, and gently transfer to a bin, which would reduce the number of workers necessary to pick the fruit. Our pear trees are older, and we try to keep them under 14 feet tall so our pickers can manage to safely fill the 60 to 70-pound bags of pears from ladders, so we considering replacing the older trees in our orchard with dwarfing rootstock. The smaller trees are easier and more efficient to pick, and we can also plant more fruit trees per acre, which increases the production per acre. We are also looking at the practice of growing fruit trees flat against a "fruiting wall" with a trellis system that is made up of 10-foot metal poles and wires every 18 to 24 inches. These two-dimensional trees would take up less space and be easier to pick.
We keep looking ahead the same way our great-grandpa and great-uncle did toward the front of innovation. We were early adopters of integrated pest management and managing water usage. Our water comes from a glacier on Mt. Hood, and by changing our irrigation strategy we save water, and with drip sensors I can manage our water use on my phone. We've been in the Hood River Valley a long time, like other farm families, and my generation is looking ahead at how to keep growing fruit trees for generations to come.
What's your favorite way to eat canned pears?
My favorite way to eat canned pears is cold, right out of the can!