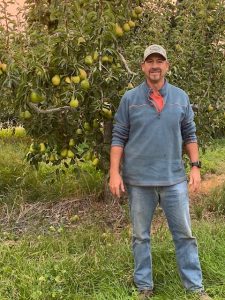 Yakima, WA
Pacific Northwest Pear Grower
What's the history of your farm?
My great grandfather purchased the land in 1917 and he raised cattle. It wasn't until 1955 that he and my grandfather planted their first pear orchard. I started working in the orchard during the summer when I was 10 or 12 years old, and by the time I turned 15 I was almost working full time during the summer months, and here I am today, 39 years later. My son also helps on the farm today.
What makes your farm unique?
Our orchard is in West Valley on a slope with Northern exposure where the temperatures are cooler and the soil is deep. In our growing region pear trees produce a smaller sized pear that's ideal for canning, about 2-1/4 inches in diameter across the widest part of the pear. My pears are all canned.
How many acres and what pear varieties do you grow?
Pears represent 75% of the tree fruit that we grow, on 150 acres. Two-thirds of our pears are Bartletts and the other third is the Anjou variety. We've been growing these same two varieties since 1955. We've experimented with other varieties, but these are the varieties that thrive on our land.
What do you look for when you walk through your pear orchard?
I walk through our orchards, all year long, looking at the vigor of our pear trees, and it takes time before it becomes second nature to "know" when something's not right and also to see when something is perfect. We watch for pests and blight early in the season and then once the fruit sets, we keep an eye on how the fruit is ripening. Of course, unexpected weather changes, such as cold snaps, prompt growers to inspect their trees as needed.
How long does it take to harvest your pear crop?
Pears are harvested by hand, and it takes about 12 days for about 80 people to complete the harvest. We used to have the same guys return every year to harvest, and now we have some who return and also new pickers every year.
How do you work with your canner partner?
Canners visit pear orchards that they will be canning in the spring to see how many buds are on the tree and to estimate the crop volume. They'll visit again in June, to get a better idea of the volume of fruit and to check on ripeness. Then about two weeks before we are scheduled to harvest, they do a final check for maturity of the pears. Growers and canners can usually tell when it's time to harvest pears by looking at them and tasting. In order to maintain top quality, canners will often use pressure testers to monitor ripeness in order to pick the pears before they reach 16 pounds pressure.
Canners work with growers from multiple orchards, and that's a lot of pears all ripening in a short period of time! We harvest when the fruit's just starting to ripen. When canners take possession of the fruit, they typically send it to a cold storage facility where they hold the fruit until they schedule each bin for canning. That's when they move the pears from cold storage to ripening rooms that are close to the cannery. They do this to maintain the integrity/quality of the ripened fruit.
How would you describe "a best year ever" that you've had growing pears?
That's easy! We had two banner years in 2014 and 2015 when we harvested 3,800 and 3,900 bins of pears. The weather was cool, we had plenty of water, there weren't any bugs, and the fruit set was good. An average harvest is 3,000 to 3,300 bins. The average weight of a bin of pears that are just starting to ripen weighs 1,000 pounds.
What are some of the challenges for growing pears?
 The biggest challenge for us is managing the Pear Psylla, which is a pest of pears only. This pest can cause brown scarring on the fruit, and a serious infestation can stunt, defoliate and even kill trees. We have to watch the trees carefully to eliminate this pest, using sustainable practices, at the egg stage.
Another challenge are extended periods of warmer-than-usual weather, like we are experiencing this year, because the trees require a lot more water to produce pears.
While not unexpected, it can be challenging, financially, to grow pears because you typically spend about 3/4 of what you would make before you get to harvest.
What's your favorite way to eat canned pears?
My favorite way to eat canned pears is the same as when I was a kid, with cottage cheese. Pear pie is really good, too.