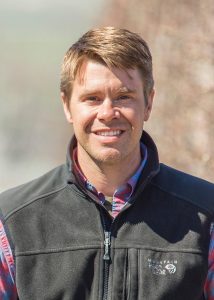 Sundquist Fruit
Pacific Northwest Pear Grower
How did Sundquist Fruit get started in the business of growing pears?
My great grandfather founded our business in the mid 1920's when he began managing five-acre orchard tracts in the Gleed area in Yakima Country, Washington, for east coast investors. Our first pear orchard was planted in 1925, and that orchard is still in production today! At that time the orchard was interplanted with apple trees which have since been removed and replaced with pear trees. Today we farm about 425 acres of pears out of 1900 acres of tree fruit from Naches to the Pasco area. We also grow apples and sweet cherries.
How long have you been growing pears?
I've been growing pears since my return to the farm in 2004. Continuing the family business was not an easy decision for me as I was torn about pursuing a career in IT. I decided to come back after an invitation was extended to me by my father's generation. After about six years of working as a farm manager, I found a partner who helped me in our ownership transition and became president of our organization in 2010.
What is it about the Pacific Northwest that makes it a good place to grow pears?
The Pacific Northwest is regarded globally as one of the premier fruit growing regions. Many things position our region to be a standout internationally in terms of pear growing. Our fertile volcanic soils are the perfect medium in which to grow, and the arid climate is good for fruit quality and helps to keep disease at bay. The cold winters help set fruit buds for the following seasons. Importantly, our proximity to shipping channels help us move fruit around the globe with ease not afforded to many other countries. The PNW is pear country!
What pear varieties do you grow?
We grow Bartlett, D'Anjou, Bosc, Red D'Anjou, Red Bartlett, Starkrimson, and Seckel pears. Our decisions on which pear varieties to grow is the same as our decision on any other fruit: What does the market want, and what varieties will people come back to purchase again and again? Those varieties are the ones to plant.
What percentage of your total harvest is Bartlett pears?
In 2021, 62% of our pears harvested were Bartlett pears. In a given year, we send about 10% of our Bartlett pears to the fresh market, and rest are sent to local canneries. That decision is driven by size and the large fruit sells well in the fresh market, while smaller fruit is perfect for canning.
Have pear growing practices changed over the years?
Growing practices have changed tremendously in recent years. We rely much more on Integrated Pest Management (IPM) to control pests and disease in the field. This includes using mating disruption to prevent pests from colonizing the pear orchard. Today, we work with our beneficial predatory insects to control pest populations. We also use humic acids and low-till practices to work with the soil biology to keep the trees healthy and productive. Additionally, we employ IOT based soil and tree monitoring systems to keep our fingers on the pulse of the tree to make sure we are using our water optimally. In general, we are working to become better stewards of the environment and our resources whilst producing a higher quality product.
Is growing pears a sustainable business?
We see growing pears as a sustainable business as it adds to the richness of variety that people have come to enjoy at their tables. It's said that we grow pears for our heirs! This has been attributed to the slow cropping cycle of pears, but I believe that permanent crops can benefit multiple generations. Older pear orchard soils are rich with humus and organic matter. We certainly see that with our nearly 100 year old pear trees.
What are the most crucial phases of managing your pear orchard throughout the year?
The changing seasons are one of the most rewarding aspects of farming.  Our season can be divided into 4 main phases, and if one phase is neglected, the fruit's full potential can be lost.
1. Setting up the Crop
1 includes pruning and putting down nutrients to replace what was removed with the previous year's harvest.
2. Bloom
1 is one of the busiest times on the farm. Bees are out working the fields during the day and our wind machines are working during the cold nights to protect the crop.
3. Summer Growing Season
1 is when we're closely monitoring the water and the tree canopy for pests and the fruit for optimum growth and condition.
4. Harvest
1 is where the rubber meets the road. Once proper maturity is achieved, crews swarm the orchard to put every last pear in bins and get them to cold storage where they safely await canning or packaging.
How do you plan for picking pears?
It takes an army to pick a lot of pears in the proper window. Because of this, we're hiring people ahead of time and making sure the equipment and resources are ready and in good condition for the harvest season. Over the past eight years we have been working with guest workers who come seasonally to help us in the harvest. These hard working folks stay in housing that we provide and maintain with care.  Accurate yield estimations are necessary to determine the proper amount of help needed for an efficient harvest. Planning for the harvest is a 12-month process when you consider all of the inputs and efforts necessary to prepare for it.
What are some of the biggest challenges you are facing in farming right now?
Farming has always been a challenging business. In farming you are susceptible to challenges on every front. Climate and local weather changes, labor affairs, regulatory and tax issues, international trade dynamics, fuel pricing, land values, and the valuation of the U.S. dollar all have a huge impact on farmers. Right now, rising costs, labor availability, and pear consumption challenges, due to competition at retail, have been the largest challenges facing pear growers, in my opinion. These challenges are not unique to this generation, but the stakes are constantly rising. However, the pear industry is a resilient bunch and is well equipped to face these obstacles.
How do you like to eat canned pears?
When it comes to canned pears, I love to eat them the same way I did as a kid, straight from a jar that my mom canned after last year's harvest.